AMPIS XLVI NATIONAL REAL ESTATE CONFERENCE VILLAHERMOSA TABASCO FROM OCTOBER 18TH TO 21ST 2017
The Asociación Mexicana de Profesionales Inmobiliarios, A.C. (AMPI), was formed in 1956. It is governed through By-Laws and a Code of Ethics. Its' primary goal is to professionalize real estate activity throughout Mexico. It currently has representation in seventy cities nationwide; additionally we have bi-lateral working agreements with the National Association of Realtors®, Canada, Spain, Brazil and other countries.
For the past 45 years we have held a National Convention which includes real estate training events, real estate reports of general interest, and social events for that reason we wish to invite you to join us at AMPI's XLVI National Real Estate Conference which will be held at the Villahermosa Convention Center, in the state of Villahermosa, Tabasco from October 18th to 21st, 2017.
The National Real Estate Convention is a high-value business event organized by AMPI focus on our interest to have international opportunities and to exchange experiences and expand business networks and referral opportunities among the attendees. We invite you to come and learn about an array of new real estate opportunities that Mexico has to offer, while enjoying a fun getaway in charming Villahermosa!
Come and learn how you and your organization can benefit from entering the established network of real estate agencies, construction and development companies, national and international investors, reputable lawyers, architects and other market players. You will also find:
· Educational opportunities
· Business panels
· General Mexico real estate information
· First-class international speakers
· Networking & social events
· RE Expo
This year, AMPI wants to make you have an amazing experience in business, and for that reason we are planning to have an International Pavillion where you could share information about your association with the attendees, this activity is complementary at the cost of your registration to the congress, if you are interested in, please contact me at [email protected]
Please find on this link our brochures https://drive.google.com/open?id=0B6i3BsZL-TEvSWlMdDBiUTJ4OHc
For registrations and more information please visit http://congresoampi2017.com/
If you would like personalized bilingual assistance, please contact me at (55) 5566 4260 / (993) 190 1512 or by email to [email protected]
Best Regards,
Eunice Roque, CIPS
Coordinador de Servicios y Beneficios a Asociados Nacionales e Internacionales
+52 (55) 5566 4260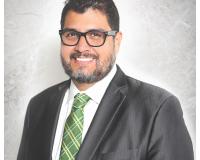 Jose is a real estate associate and provides commercial real estate and business advisory services with extensive interaction with the Hispanic/Latin Population in North Texas and Mexico. Services pro....